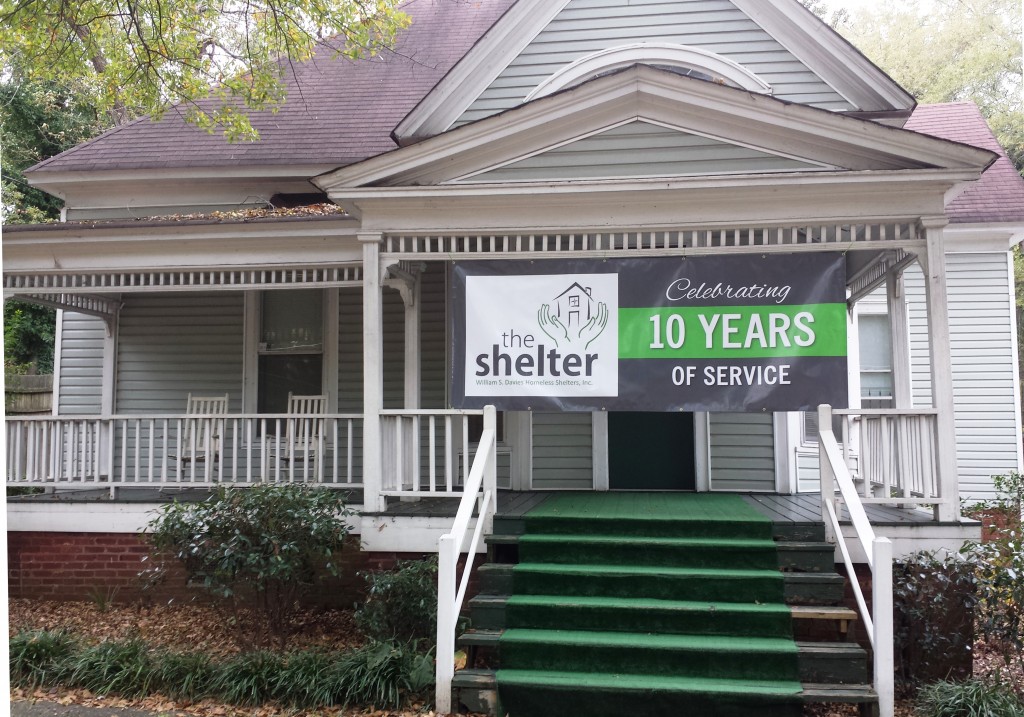 Happy Birthday, Davies Shelter!
In 2003, Susan Seagraves opened the doors to the Davies Shelter for  homeless men in Rome to find shelter, safety, hope, all with dignity, and  100% fueled by the support of Rome/Floyd County. 10 years later, we  are still going strong, still 100% Community Supported. We have you to  thank for that!
Over the years, a few things have changed:
Originally, the shelter offered a 30 or 60 day stay to our guests. Now, we  have a merit-based program, meaning as long as our guests are actively  pursuing a better life for themselves by applying for jobs, housing, school,  and other opportunities, keeping their commitment to us to volunteer  weekly at other agencies in Rome, and continuing to experience a positive  benefit from their time at the shelter, we extend their stay until our  favorite day around here, Move In Day, where we get to share the joy of  seeing them move into a home of their own, helping them attain and transport household items, food and furniture, and getting them settled in before we wish them luck in their new life.
Our original program limited the number of times a person may be a guest at the Davies Shelter to twice in a lifetime. This is no longer the case. We celebrate that our program has grown and offers so much more than it did in the beginning. As such, we believe everyone, whether they have been a guest in the past, deserves a second chance (or maybe more!) at a better life in a safe place with increased opportunity for success, and we have permanently waived this original restriction.
We're excited to say we have added a computer lab for our guests, where they can apply for jobs online, work on resumes, and learn better computer and keyboarding skills as a part of a weekly program to help get them up to speed in our digital times. They can set up and learn social networking sites to reconnect with family and friends and start building a support network. And they get help with all these things from our amazing volunteers and interns!
Current Location Updates: 228 South Broad Street
As you may have read, the current location of the shelter, which we have rented faithfully since our inception, is in possession of the Bank of the Ozarks in Cartersville as a result of financial difficulties on the part of the owner, and they have chosen to foreclose on the property. We are, at present, uncertain about what this means for us or when we may be able to learn and share that information. You may also know that we have been planning for several years to move to land in East Rome we purchased for the purpose of a new shelter. As we are forced by the bank's decision to seriously consider our future, we will as always look to our friends in the community for support. You have always come through for the Shelter and those we serve, allowing us to remain 100% community supported and not receive any State or Federal funding, and we know we will be able to count on your support as we look forward. It is our hope that we will be able to remain at our current location to transition directly to our new shelter once it is built.
We will be updating our site to provide ongoing information as we have it with respect to our location and future plans, so please check back with us!
Interested in helping?
Remember the shelter in your giving. Click on our Donate page to get started!
If you are part of a church, know that we are providing a service that your church probably cannot on its own, and so we enable you to extend your ministry.
If you are updating your will, please remember the Davies Shelter in your will, and know that your legacy can include providing for the neediest of those in our community.
Need more information? Contact us at daviesshelter@gmail.com.