CHECK OUT OUR #HOMELESSTOHIRED TAB !
Our new program to promote our guests' work experience and skills has officially begun! Follow us on Twitter @daviesshelter or FaceBook for more updates!
Looking for Bobblehead Bill?
As a special part of our Capital Campaign, you can be one of the lucky few to have a Limited Edition Bobblehead Bill of your very own! Bobblehead Bill will look great on your dash, your mantle, or wrapped up under the Christmas tree for someone special. Besides being a tiny replica of a legend and great man, Bobblehead Bill is stylishly dressed, always smiling, and always agreeable as he nods his head to all your best ideas!
Only 50 Bobblehead Bill dolls were made! Don't delay, get yours today!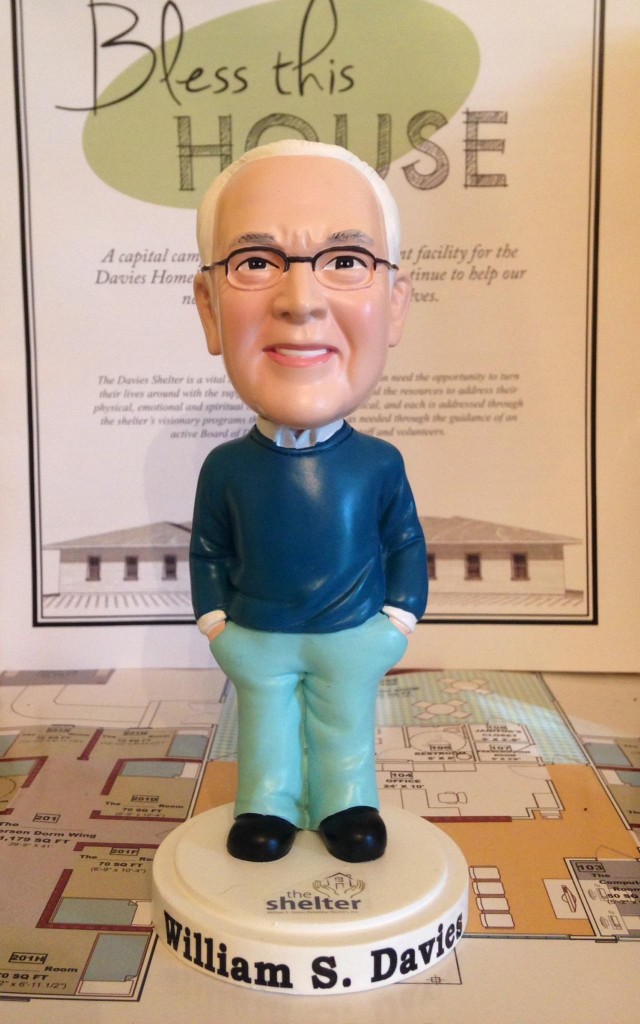 Bobblehead Bill is available with any donation of $1000 or more to our Capital Campaign. Your name will also be listed on a special plaque inside the new shelter.
Please click on Donate below to make your donation and enter "Capital Campaign" or "Bobblehead Bill" in the note. You may also call the shelter at 706-622-5622 and choose Option 3 to speak with our Director.
---
In 2003, Susan Seagraves collected dollar bills from friends and strangers in Rome to start a homeless shelter. That October, she opened the door and accepted the first guest of the William S. Davies Homeless Shelter, affectionately named in honor of her dear friend and mentor.
That was 10 years ago. Since then, we remain a 100% Community Supported haven for individuals transitioning from homelessness to self-sufficiency and a home of their own. Thousands of guests have found shelter. Dignity. Hope. Thousands of lives have been changed for the better. All of this, because of your support. Thank you.
For your convenience, you may Give Shelter through Paypal.